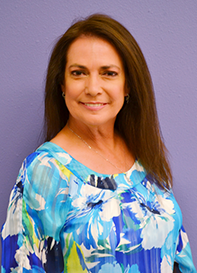 I grew up on a 400 acre dairy farm in Wisconsin with my parents, 5 sisters and 1 brother. My journey into hair started at 12 years old. My mother was my "1st guinea pig" I mean "customer." I went with her to the beauty salon where I learned to roll, tease, and pin her hair into an updo. Doing chores was hard work for me, while doing hair was fun. Eventually I became the family, prom and homecoming hairdresser.
Graduating high school I received a scholarship to State College of Beauty Culture where l learned cutting, coloring, cap highlights,perms, roller sets and more… While working in a salon I attended WCTI, Wisconsin College Technical Institute where I expanded my education into barbering. I learned all the barber techniques such as, razor cutting, clipper cutting, clipper over comb, flat tops and more…
In 2000 I opened Patsy Salon in Riverview, and have enjoyed it for 17years. I have great customers that have been with from the beginning, many have become friends as well as customers. I treat them like family doing the best job I can. I specialize in razor cutting for women and men, highlights, coloring, scissor and clipper cutting, perms, shampoo sets, teasing and updo's.